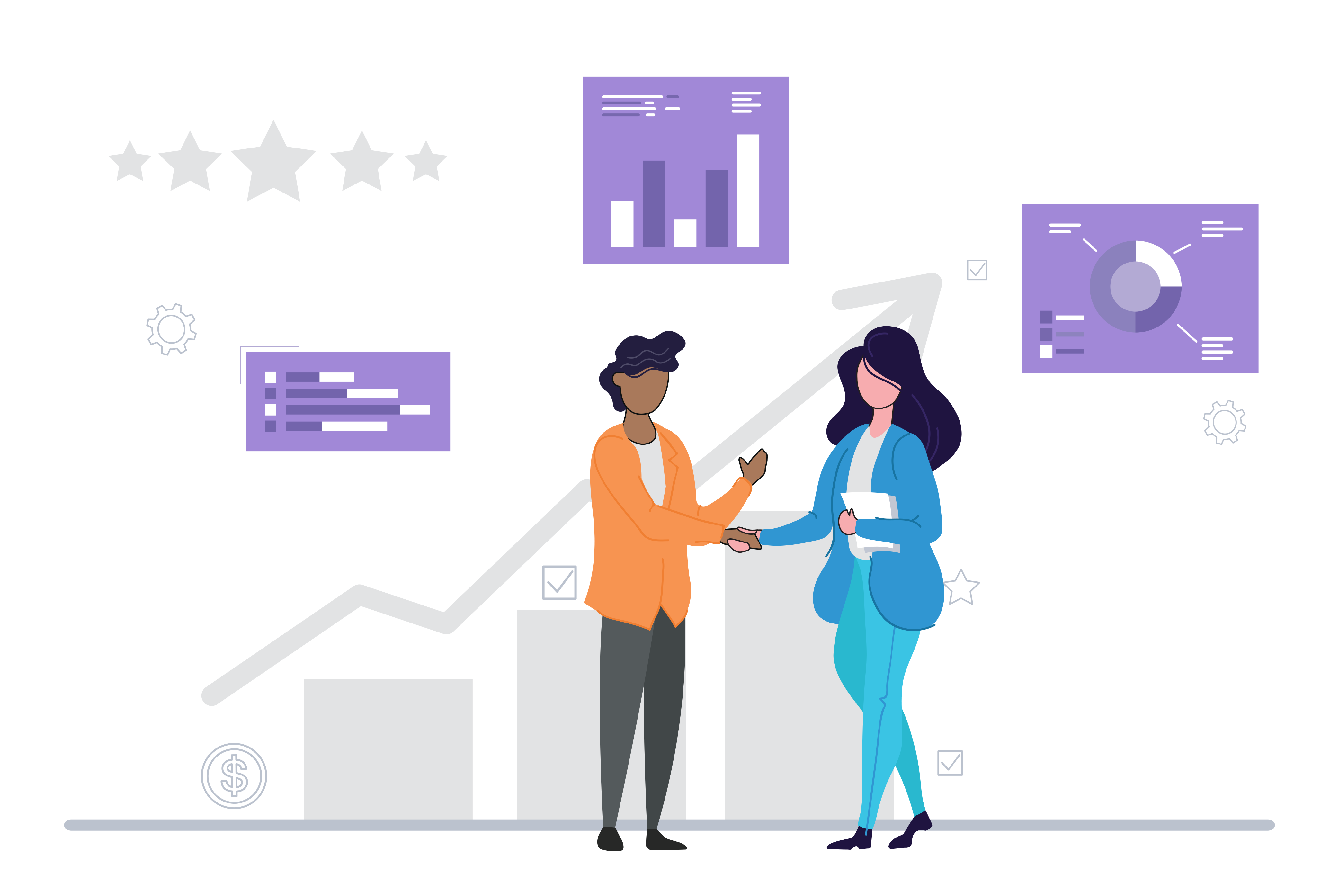 Overview
What are hiring numbers?
Significance of hiring numbers for your business
Different hiring metrics you can use in the hiring process
Introduction
The goal of every recruiter is to select the right candidate — however, recruitment is only successful if the hiring is cost-efficient and timely. Each stage of recruitment costs money and time, so hiring managers or business owners want to minimize that as much as possible.
Hiring practices today have become complex, partly due to the labor market disruption caused by the coronavirus pandemic and its effect on the U.S. economy. According to a Bureau of Labor Statistics (BLS) job report, while the number of job openings in August 2021 was 10.4 million, the number of hires decreased to 6.3 million. In September 2021, the unemployment rate was 4.8%.
So, what's happening? Several factors could be to blame, including workers' hesitation to return to the workforce due to the Delta variant. The significance is that hiring managers now have a more challenging time recruiting in such a hyper-competitive labor market.
That's why it's important to use metrics that allow you to measure the effectiveness of your hiring process — so you can see what's working, what isn't, and why. This article will provide insight into what recruiting metrics are and some important metrics to help your hiring process.

What Are Hiring Numbers?
Hiring numbers, or recruitment metrics, are data-driven measurements useful in tracking, analyzing, and optimizing the overall hiring process for your organization. Essentially, hiring numbers tell you:

The success rate or success ratio of your hiring process
If you're hiring the right person for the position
The average time it takes to find a new hire
Recruitment sources or channels to invest in
The average cost of recruiting a candidate
The estimated number of required candidates in each recruitment stage
The number of jobs or positions that needs filling
The efficiency of your human resource department
Hiring numbers can also represent employment growth rate, job growth, wage data, job openings, job gains, total employee population, and a lot more.

Hiring Numbers to Understand During the Hiring Process
There are several valuable hiring numbers or recruiting metrics your organization can use. However, it can be challenging to identify which metrics to measure during the recruitment process. This can be especially true for small business owners who may need to fast-track the hiring process, minimize monetary or time waste, and boost sales.
A great way to approach this is to focus on metrics that can help you save on costs, such as cost per hire, quality of hire, time to fill, time to hire, source of hire, and candidates' retention time. They're also easy to track regardless of your business size.
You can always incorporate more metrics with time, though. Below, we detail a few metrics you can use to turbocharge your hiring process or recruitment strategies.

Time to Fill
Time to fill is the time lapse between when a job is declared vacant and when a candidate is hired to fill that position. It's a pretty straightforward metric to track and can indicate the operational efficiency of the hiring process and the effectiveness of your hiring managers or talent acquisition professionals.
Time to fill is influenced by demand and supply for the specific position. Higher demand increases the time to fill and vice versa. In addition, the average time to fill is influenced by factors like location, company size, and type of industry.
However, you can always create a benchmark for various positions and subsequently optimize. Improving your time to fill metric is relatively easy since most recruiting software can address issues impacting it. As organizations scramble to fill positions left by departing workers post-pandemic, time to fill can give you an idea of what to expect.

Time to Hire
Time to hire is the time lapse between when you approach a potential candidate for a vacant position and when the candidate accepts the offer. This shouldn't be confused with time to fill, though, which deals with the entire hiring process from the moment the job becomes available until a qualified candidate accepts it. Time to hire only deals with the total time involved in the movement of candidates through your recruitment funnel — that is, from the process of screening to interviewing and, finally, employment.
Time to hire can point to how fast your hiring managers can identify the right candidate for the job and move them through the various recruitment stages. Time to hire varies from country to country, though, and can also be influenced by the complexity of the recruitment funnel. For example, jobs with a straightforward recruitment process of, say, one interview will generally have a shorter time to hire than those that involve screening and two or more interviews.

Cost Per Hire
Cost per hire measures the amount of money spent by an organization to hire a candidate. You can estimate the cost per hire by dividing the total cost incurred (the total money you spent during recruitment) by the total number of hires. The total recruitment cost encompasses both internal and external costs incurred during recruitment.
External costs can include advertising costs, agency fees, new hire training costs, and more. Meanwhile, internal costs can include time spent by the recruiter or hiring manager, lost productivity, onboarding time, etc.
Identifying hiring patterns can help you plan more cost-effective strategies in the future.

First-Year Attrition
Typically, newly hired employees attain full productivity after eight months. The significance is that your new hire will most likely reach full productivity after, at most, a year. The first-year attrition or candidate retention rate measures the number of hires who depart after the first year. So, new hires who leave in their first year end up not attaining productivity and can cost your organization money. This metric is a valuable indicator of underlying issues related to hiring and onboarding that may not be clear to your hiring managers.
Some problems may include poor onboarding quality, poor overall work fulfillment, poor company culture, unrealistic expectations, little to no new hire training, etc. First-year attrition can be managed, such as if the employer terminates the contract, or unmanaged, like if the newly hired employee quits by their own accord.
The former can be due to a below-average performance by the new hire, while the latter can result from unrealistic expectations by the employer that the newly hired can't meet. Either way, a high first-year attrition rate implies the need to reevaluate your hiring processes and sources while setting reasonable expectations.

Source of Hire
Source of hire measures the efficiency of the various platforms or channels your candidates are sourced. Some channels include Joblist, LinkedIn, Facebook, Indeed, Twitter, and Upwork. This metric allows you to track and analyze your employees and hiring process performance. You can then predict future hiring patterns and develop new talent acquisition strategies. In addition, the source of hire tells you which channel to allocate more hiring resources.
For instance, if the source of hire for your best-performing candidates from one or two recruitment campaigns is Facebook, it makes more sense to put more resources and focus on sourcing candidates from Facebook compared to other platforms. The same goes for the worst-performing candidates. You'd know to channel fewer resources toward that platform.
However, your inference for this metric should always be based on multiple hiring processes, not just one (since one might be due to a chance occurrence).

Quality of Hire
Quality of hire can be the most effective but difficult metric to measure. It measures the overall performance of all of your new hires. A high quality of hire can indicate that your recruitment team is finding top-performing talent, while a low quality of hire can indicate a hiring process failure.
A wrong hire can be a hiring manager's worst nightmare, as it implies that resources have been wasted. In such a situation, though, you can track your actions that led to employing a particular candidate and improve on it against any future hire.
When combined with the source of hire metric, you can estimate the sourcing channel quality. In addition, the quality of hire is a vital input for calculating your success ratio. The success ratio divides top-performing hires by the overall hire. A higher success ratio means most of the hires are performing optimally. As such, the hiring or selection process is successful. The converse is also true.

Looking to Hire? Look No Further Than Joblist
Using the appropriate hiring numbers or metrics can help you make a more informed decision in your hiring process. That said, finding the right candidate to hire for a job can be very challenging.
Fortunately, with Joblist, finding the right candidates is a lot easier. Our platform customizes the job search based on candidates' unique preferences, so your job posting only shows up for the right people. The idea is to focus on the most critical aspects of the hiring process instead of searching from one job board to another. All you need to do is advertise your job and watch us do the rest.