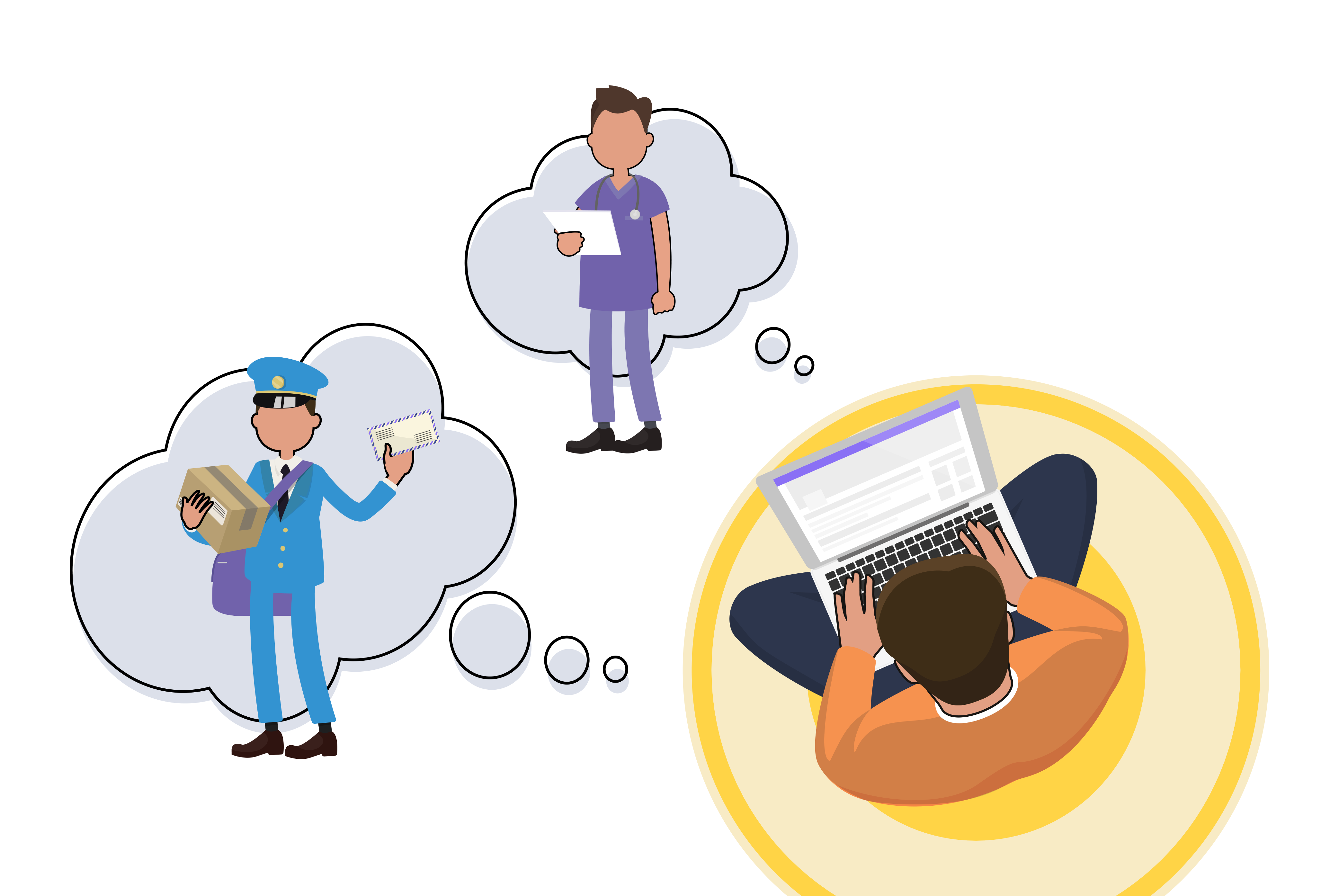 Overview
How to find government jobs near you
The application process
Tips for applying effectively
Introduction
Wherever you're located, there's a good chance that the federal government is hiring. In the United States, around two million people are employed by the government, and positions are often available. Many federal jobs offer steady wages, solid benefits packages, and job security.
However, it's important to know that government jobs are very competitive and have a strict hiring process. If you're looking for federal employment, this guide will help you find and apply to jobs in your area.

How to Find Government Jobs Near You
Whether you're looking for an entry-level administrative job or you have a specialized skill like engineering, there are plenty of jobs you can apply to. Career opportunities can be found in health care, cybersecurity, the postal service, law enforcement, agriculture, and other industries. You'll have more accessibility to federal jobs in certain areas.
Job opportunities can vary depending on factors like population, openings, and economic development. To find job openings, you can use an employment site like USAJOBS or a job search platform like Joblist. Joblist can help you discover current federal jobs in your area. Visit our quiz page to find out how we can better align your job search to your interests and skills.
The Government Job Application Process
Read the entire job description and all the qualifications before you apply. While some non-government jobs may make concessions on eligibility, a government agency will only hire applicants who meet all their requirements. Keep in mind that some local governments have their own websites you'll need to visit to apply.
Once you find a government job in your area that you're interested in, you can begin the application process. The next sections show how to find greater success during the application stage.

9 Things to Include on Your Government Job Resume
Use your resume to show government employers that you have the experience and requirements to fill their job openings. Many require certain periods of time working in a particular industry.
Federal resumes are more in-depth than traditional ones. Typical resumes are usually only one to two pages. On the other hand, government resumes usually run about four to six pages. You'll still have to include your contact information and skills, but a government resume will require a few extra details.
Below is a list of information you'll need to include on your federal resume:

Your contact information. Include your full name, phone number, email address, and physical address.
Your skills. Let the employer know about any hard and soft skills you have that will help you do the job.
Your work experience. Be very detailed in this area. The reason resumes for federal jobs are longer than usual is because government employers want to know all the details about your past duties.
Your personal profile. This is a short synopsis of your skills, experience, and achievements at the top of your resume. Its purpose is to make employers interested in the rest of your resume. Keep it short, no longer than one brief paragraph.
Your education. Include your most recent (or most relevant) education first.
Your citizenship status. Are you legally allowed to work in the United States?
Your current General Schedule (GS) pay grade. The GS is the pay scale that government jobs use. It has 15 pay grades. If you already work in government, you'll need to include your current grade.
Your veteran status. Some federal jobs give preference to veterans. Some jobs also show preference to members of the Peace Corps.
Your highest security clearance. You only need this if you currently work in government.
How to Write an Employment History Entry
Federal employers have very strict rules for how you should organize your work history. Read on for what you should include about each position you've held.

Employment dates. Give the month and year of your start and end dates with the company.
The hours you worked in a week and your salary. Were you full or part-time? How much were you paid?
The level of skill required in the position. Was the job entry-level, mid-level, or senior level? This will help hirers judge your level of expertise.
Your experience. What did you do at your job, and how does it relate to the job you're applying for? Be detailed.
Your achievements. Be specific. Show percentages and numbers that illustrate your accomplishments.
Your job training. Highlight any training or certifications you earned.
Your supervisor. Name your supervisor and include their contact information.
General Tips for Writing a Federal Resume
When you're putting together your resume, consider the person who will be reading it. Your resume is just one in a mountain of documents. It needs to grab the reader's attention quickly, communicate your value to them, and avoid boring them with unnecessary fluff.

Create a new resume for each federal job you apply for. Federal employers want to see your commitment to fulfilling their open roles. Your resume should be customized to the job you're applying for.
Make it easy to read. Federal employers see a lot of resumes. Keep your wording simple and your explanations concise. Hirers should be able to skim your resume in 15 seconds or less.
Match the wording in the job post exactly. Many employers use keyword scanners to vet out qualified candidates. Use the exact words and phrases in the job post to describe your skills. If a job requirement says "HTML," use "HTML" in your skills section.
Include references. Give the names and contact information for former co-workers, mentors, and personal acquaintances that can verify your character.
How to Draft a Government Job Cover Letter
Keep your cover letter brief (one page or less) to make sure federal employers can read it quickly. Proofread your letter several times. Government jobs are extremely competitive. Even small grammar errors can hurt your chances.
Tailor your letter for the job you're applying for. Show employers that your skills and values align with their agency. Do some research on the hiring agency before writing your cover letter. Find their mission statement. For example, if you're applying for a job as an aeronautical engineer, you might want to write about your lifelong obsession with spacecraft design.
Your cover letter should be three to four short paragraphs long. Read on to see the parts of an effective cover letter for a federal job.

Header. Your header should have all your contact information and the date, in addition to the employer's name and address.
Introduction. If you know the employer's name, use it. Otherwise, you can say, "Dear Human Resources" or "Dear Hiring Manager." Tell them what position you're applying for and why it appeals to you.
Relevant experience. Point out the skills and experience that make you a great fit. Add any specific accomplishments you've had. This will likely be the largest section of your letter.
Conclusion. Thank the reader for their time and reiterate how excited you are about the position.
Preparing for Your Interview
If the federal employer likes your resume, they'll likely call you to perform a phone screening. The purpose of the screening is to make sure you have reasonable expectations about the job and a chance of getting it. Make sure to have a positive attitude during your phone screening.
Below is a list of possible screening questions:

Tell me about yourself.
What do you know about our agency, and why do you want to work here? This is your chance to prove that you have done your research.
What is your availability?
What is your expected salary?
Are you willing to relocate?
What did you do at your former job?
Why do you have a gap in employment? Prepare to answer questions about any issues that may come up based on your resume.
Do you have any questions for me? Always have at least one poignant question prepared.
If you pass the screening, you'll be invited for an in-person or video call interview. You might meet with one hiring manager or a panel of several people. Find out as much about the agency as you can before your interview.
Visit the company website, read frequently asked questions (FAQ), and try to contact current employees. If the human resources department sets up your interview, ask them about the interviewer (their position, name, and title) and if they're able to provide any information on the interview format.
Below are a few tips on getting ready for a federal job interview:

Prepare a personal story. This brief introduction will let the interviewer know who you are. Include your goals, mission, best skills, and passions as they relate to the job.
Prepare examples of past success. Have several examples of the success you've had at former jobs. Make these specific. For example, you might have saved your last company money. How much did you save them? How did you do it?
Reread the job announcement for interview question clues. Most of the interview questions will come from the job post itself. Be ready to answer questions about what's mentioned in it.
Scour your social media pages. Government jobs have strict character requirements. They will check your social media pages. Any inappropriate posts can hurt your chances.
Dress professionally. Wear formal office attire. Make sure you're well-groomed, too.
Rehearse your answers. Rehearse your answers and demeanor over and over. Practice displaying confident body language, including upright posture, open chest, and eye contact. Find a friend to help you rehearse.
Relax. Take a few deep breaths before you go in so that you don't come off as nervous. Trust your preparation.
5 Tips When Applying to Government Jobs
Applying to federal jobs is a thorough process. When submitting yourself, there are several things you should keep in mind. Below is a list of some considerations to be aware of.

Get ready for heavy competition. Government jobs are highly sought after. Put your best foot forward.
Be prepared to wait. The government hiring process takes a good deal longer than that of other jobs because of strict processing requirements.
Think about relocating. You'll have a better chance of getting a government job if you're willing to go where they are.
Don't waste your time. Government jobs don't budge on requirements. If you don't fit the job posting, don't apply.
Don't get ahead of yourself. Don't ask questions about things like salary or promotions during the interview process.
Find Top Government Jobs in Your Area on Joblist
Applying to become a federal employee can be a complex and drawn-out process. The government operates with taxpayer money, and federal employers have to make sure they hire the right people. If your application is successful, you might be rewarded with a secure job, a competitive salary, and great benefits.
If you're looking for a quality government job, check out Joblist's career opportunities curated for you. Visit our quiz page to let us know about your experience, interests, and skill set. We help job seekers find the best possible employment opportunities for them.